Welcome to our Anniversary Christmas Raffle!
You are just a couple of clicks away from helping the hundreds of thousands of cats and kittens that we care for every year. By entering our Anniversary Christmas Raffle you will be in with a chance to win some of the £90,000 that we are giving away to celebrate our 90th Anniversary. We have over a thousand cash prizes up for grabs and a top prize of £50,000!
Entering is easy, simply click the 'play now' button below and choose how many tickets you want to buy. In a few short steps you could be in with a chance of joining Mr Utz from Shropshire who was a winner in our Spring Raffle.
Thank you for all your support and best of luck from all the team at Cats Protection.
Christmas Raffle draw is in...
Weeks
Days
Hours
Mins
Secs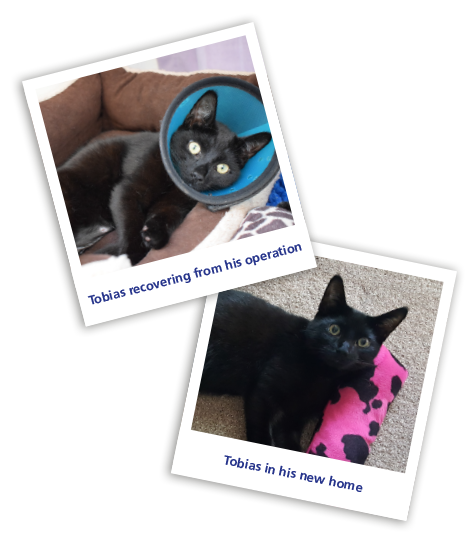 How you'll be helping
It's been a tough year for Tobias, but thanks to some TLC from the Cats Protection team and funds raised by cat lovers like you, he is now looking forward to a great Christmas in his new forever home.
This beautiful cat was brought into the Hornchurch & District Branch of Cats Protection back in April with a severe injury to his left leg and hip. Following vet treatment and further examination of his injury, vets were left with no choice but to amputate the leg. The total cost of Tobias's vet treatment and surgery came to over £500! It's thanks to the money raised through activities like our quarterly raffles that we are able to pay for such life changing treatments.
You can read the stories of more cats and kittens that we've helped across the decades on our Saving 9 Lives page. From 16-year-old Ginger in the 1930s and Pachena, who lost her home in the Blitz, through to the treatment and rehabilitation of car accident victim Joshua in 2017.
Play Now!