Welcome to our Christmas Cat Lovers Raffle!
You are just a couple of clicks away from helping the hundreds of thousands of cats and kittens that we care for every year. By entering our Christmas Raffle you could be in with a chance to win one of 1,000 prizes, including the fantastic £25,000 1st prize!
Entering is easy, simply click the 'enter now' button below and choose how many tickets you want to buy. In a few short steps you could be in with a chance of joining our lucky winners.
The Christmas Raffle draws on 15 December 2023.
Look out for our subscription entry option
Never miss a draw! Our subscription raffle option saves you the time and trouble of entering each raffle by giving you automatic entry into all four of our raffles each year and our Fast Entry draws, so you never miss your chance to win a big prize. To activate, simply select the number of tickets and any donation you would like to make in the normal way on the next page and then tick the subscription box. You will only pay for your entries to the current raffle today and we will then write to you each time we start a new raffle to confirm your payment and entries. You can cancel at any time by calling us on the Raffle Helpline 01628 821 984.
Sign up today and receive an exclusive Cat Lovers Raffle subscription cuddly cat! There is no need to claim. Your cuddly cat will be despatched in January upon receipt of your Spring Cat Lovers Raffle subscription payment.
Thank you for all your support and best of luck from all the team at Cats Protection.
Christmas Raffle 2023 draw is in
Weeks
Days
Hours
Mins
Secs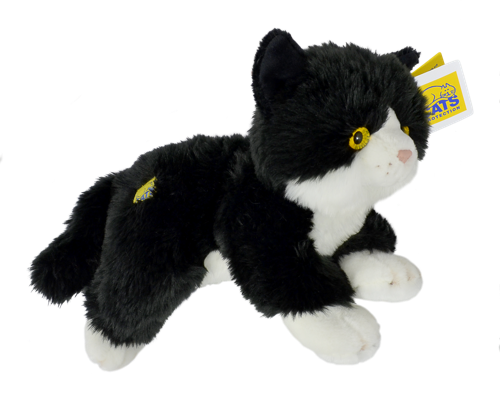 How you'll be helping
"Finding Louie has made our family complete."
Thanks to supporters like you, we care for hundreds of kittens and cats while we find them loving new homes. As you can imagine, cute kittens can usually be rehomed quickly, but many older cats like Louie often have to wait a little longer.
12-year-old Louie arrived at our National Cat Adoption Centre earlier this year after his owner passed away. He soon showed our team what a friendly, loving and playful boy he is, despite his age.
He also did his best to find a new home, often running from the back of the pen to greet potential adopters. However, they would always end up choosing another cat – usually a younger one.
Eventually, Louie's efforts were rewarded when Julian arrived at the centre hoping to find a new feline friend.
"My wife and I wanted to adopt Louie because of his age, as most people only want to adopt younger cats. After our previous cats Lawson and Ollie passed away in 2015 and 2021, it's nice to have a cat around the house again. He has settled in really well and loves chasing straws and his ping pong ball around the room. Finding Louie has made our family complete."
Playing our Christmas Cat Lovers Raffle is a wonderful way to support the kittens and cats in our care. Thank you!